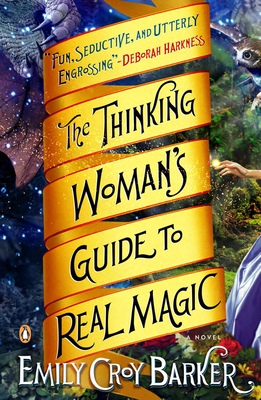 I'm pretty sure I've at least mentioned before how Emily Croy Barker's The Thinking Woman's Guide to Real Magic (click the cover to buy through IndieBound) is one of my favorite books of the last several years, maybe of ever.
The story has been described as "Harry Potter for grown-ups" (even though lots of grown-ups read Harry Potter, and there are also tons of other books that have been described this way). But if I HAD to make a comparison (not something I'm generally on board with), I'd say it's more like Narnia for grown-ups, because it's a portal fantasy, but it explores the darker, grittier side of a magical fantasy world. The protagonist Nora has very grown-up concerns, and the revelations she discovers are more complex and ambiguous than what one finds in a portal fantasy for kids. I really can't recommend this book enough, especially to fans of Lev Grossman's The Magicians and Deborah Harkness' A Discovery of Witches.
The author, Emily Croy Barker, had announced quite awhile ago that there would be a sequel to her debut novel, which was released in 2013, but news was little and far between (writing and editing a book takes time, after all!).
So you can imagine my excitement when Barker posted on her Facebook page that she had recently updated her website, and she even gave us a title and description for her much-anticipated sequel!
Book two is called How to Talk to a Goddess and Other Lessons in Real Magic. 
From Barker's website:
Nora knows she needs to move on. And forget about magic.

She's back in graduate school, and her life is going surprisingly well. She doesn't need to think about other worlds, about enchantments and demons, or about magicians—even though she once aspired to become one herself. Most of all, she really should forget the magician Aruendiel, who shared the secrets of magic with her but fiercely guarded the deepest secrets of his heart.

Then a chance encounter gives Nora the opportunity to slip between worlds again—and the next phase of her magical education begins.

Her reunion with Aruendiel, so eagerly sought, triggers catastrophe. Alone and injured in a hostile land, Nora finds a new ally and accepts her first real job as a magician. Just as she's hitting her stride in this new role, however, Nora discovers that her intoxicating new power has a higher price than she anticipated.

Trying to distinguish between friend and enemy, truth and falsehood, Nora can take nothing for granted. It will take more than even the most powerful of discernment spells to help her and Aruendiel see clearly in a dark fog of illusions and lies. And finding her way to the truth could cost Nora her life…
I just… AHH, I am so excited.
I can't wait to see Nora as full-fledged magician and explore this story even deeper. Barker created such a compelling world in the first book, and her characters are so complex and full of life. I am so ready to re-enter this world and meet my favorite characters again, and see what new mysteries Barker has in store.
There is no cover or release date yet for How to Talk to a Goddess, but in the meantime, I will be rereading book one on a continuous loop.